Mental Health in Sports
Sports play an important role in many American's lives, whether you play a sport growing up, strive to be a college or professional athlete, or gather with family and friends to watch your favorite team play. Sports bring people together. They teach people life values like the importance of leadership, hard work, competition, and being a contributing member of a team.  However, sports also prioritize physical strength, long hours, and hiding any signs of weakness. It is a place where our society supports the notion that emotions, especially sadness, fear, or anxiety should not be shown. In the United States, 35% of elite athletes suffer from a mental illness. Among college athletes, 33% of are affected by a mental illness, but only 10% seek help.  
There are numerous professional athletes who have come forward to share their struggles with mental illness. They share these in hopes that their stories may shed light on the issue and stigma surrounding mental health in sports. Their paths toward self-realization and receiving the treatment they need to manage their mental health can provide hope to athletes of all ages and expertise, who may also find themselves struggling.
Keyon Dooling, an NBA player, has been extremely outspoken about his psychosis, post-traumatic stress disorder, anxiety, and depression. Initially, when his symptoms began, he tried to quit his team, the Boston Celtics, saying he was "done with basketball." However, his coach and teammates supported him and encouraged him to get professional help. He ultimately received the help he needed from Dr. Benson with Harvard Medical School. Through therapy, self-reflection, and hard work, he was able to uncover memories of childhood trauma and begin to heal. He is now an advocate for mental health in sports.
A quote from an article he wrote for The Players Tribune says, "When we have diabetes, we go get treated. When we tear our ACL, we go get surgery. But if our heart is broken, or if our soul is hurting, what do we do? We just internalize it. We become hard. We spend our whole lives running from the ghost. Until one day, it catches up to us. And I can speak from personal experience that all the alcohol and all the women and all the money in the world will not solve the problem. The only way to finally escape is to stop running and turn around and face the ghost."
Michael Phelps
Michael Phelps, an Olympic swimmer who is the most decorated Olympian of all time having won a total of 28 medals, made headlines after being arrested in 2014 for driving under the influence of alcohol. Shortly after, he began a downward spiral where he ultimately became suicidal and began considering how he could end his life. Ray Lewis, a Ravens Linebacker and close friend, intervened and helped Michael get the help he needed. Michael ultimately spent 45 days at a behavioral rehabilitation center receiving treatment for anxiety and depression. He went on to win 5 gold medals at the 2016 Olympics. He uses his story to inspire others especially through his foundation, the Michael Phelps Foundation, which has a specific initiative dedicated to mental health called Open Up. His mantra is "it's ok to not be ok."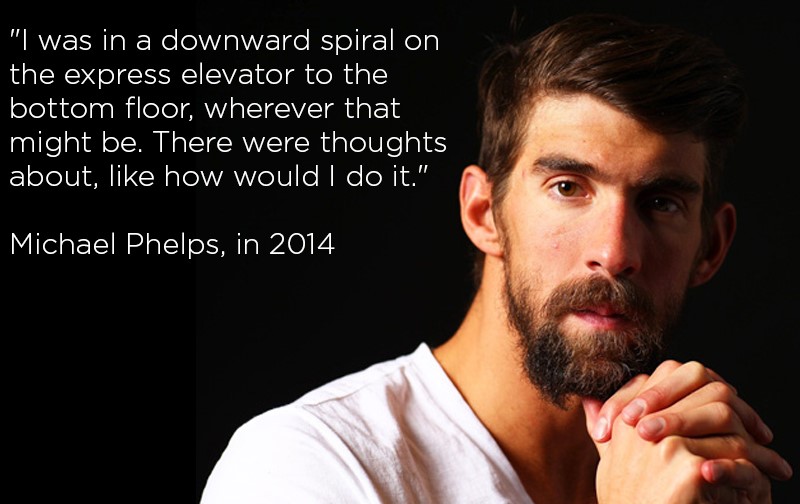 When we consider the health of an athlete, we must consider all aspects of health. This includes our physical, emotional, and social health. Mental health plays a large role in a person's health, and a mental illness can manifest itself physically. Symptoms can include high blood pressure, heart disease, headaches, digestive issues, insomnia, and more. We must prioritize mental health in sports and strive to ensure that all athletes are supported, not shamed or judged, if they do find themselves struggling with their mental health.
To access a free mental health screening for you or a friend or loved one, follow this link: https://www.mhaet.com/what-we-do/free-screenings/
To find additional resources for mental health in sports, you can visit these websites:
http://www.ncaa.org/sport-science-institute/mental-health
http://playerstrust.com/service/mental-health
To learn more about the stories of these two athletes, you can visit these websites:
https://www.theplayerstribune.com/en-us/articles/keyon-dooling-the-ghost
https://michaelphelpsfoundation.org
---
Emily Wells is the Northeast Regional Coordinator for MHAET. She lives in Johnson City, TN with her husband, Michael, two cats, Marla and Khaleesi, and dog, Petunia. Her hobbies include being outside, gardening, and hiking with Petunia. She loves working for MHAET because it allows her to meet people throughout the community who care about helping others. She loves meeting students who share their own experiences with mental health and inspire her every day.